What makes a Great Tandem Skydiving Experience
Skydiving
Posted by: Long Island Skydiving Center 3 years ago
A great skydiving experience is much more than jumping from a plane, free falling and landing. That's the easy part! A great skydiving experience is made up of many intangibles that happen behind the scenes long before guests ever arrive at the dropzone.
In this article, we're going to pull the curtain back and share some insider information on what truly makes a great skydiving experience.
It Starts with Mission and Values At the Top
There are two kinds of businesses in the world – those that make decisions by their mission and values and those that are led by money. There is nothing wrong with the need to be profitable as that's the necessary end result, but usually, mission-driven companies provide their employees and guests with that "something extra." A great company is driven by great leaders and you'll find the best skydiving centers were built by people whose lives were changed by skydiving. Such is the case with our owner, Brian Erler.
Brian's life was transformed by the sport having witnessed amazing scenes such as space shuttle launches (while skydiving) and having befriended some of the greatest people one could hope to meet. When Brian launched his skydiving center, it was his desire to share his love of the sport with anyone with the gumption to leap from a perfectly good plane. Brian's vision is to ensure guests receive a world class skydiving experience and that begins with the hiring of great people and using top of the line equipment and aircraft.
Passion of the Team & Professionalism
One might think that being a skydiving instructor is the best job in the world, but like eating five star French cuisine every night, it can get tiring. Stemming from our owner's vision, hiring instructors who are not only safe, but passionate about the sport is who he looks for. In the industry of skydiving, it's not uncommon to see burnout with a team who are overworked and underappreciated and that translates to the customer experience. A GREAT SKYDIVING EXPERIENCE happens when the instructor is having as much fun as the guest. That's when the magic happens!
At Long Island Skydiving Center, we are in the dream making business! In order to exceed expectations and deliver a life changing experience, having people who are passionate is what it's all about!
Amazing Freefall Views
The very act of skydiving is awe-inspiring, but if the backdrop is spectacular, the views from above takes an already memorable experience and elevates it to another level. There are many dropzones in the US that jump above the patchwork quilts of farmland, but few that launch above spectacular ocean views. Much of Erler's skydiving career was spent jumping in Titusville, FL near the coastline. Erler knew that his location had to have an ocean view and he found that here in Long Island!
Consistently Great Weather
A great tandem skydiving experience needs great weather in the form of light winds and blue skies! Operating in a climate with inconsistent weather conditions can be troublesome for most skydiving operators. Fortunately, Long Island summers are glorious, but there's a reason we close before Thanksgiving!
Being Prepared – Avoiding Stress
The dropzone plays a huge role in facilitating a great tandem skydiving experience, but a great experience doesn't begin and end with the skydiving center. You, the guest, have a role to play by being prepared mentally and physically.
Aside from making your reservation, there are a few things to pay attention to in order to ensure you don't feel any stress. If you're stressed, then you're not having fun!
Here are a few tips to help ensure you're avoiding stress!
Leave Early
If you're using the LIRR, public transportation or self-driving, it's best to leave early enough to allow for delays in getting to our location. It's not unusual to receive calls from folks feeling stressed because they're running late for their reservation time. This is not a great way to start the day. Allow yourself enough time!
Bring Your ID and The Credit Card You Booked With
This is a small, but very important detail that causes a lot of stress and has spoiled many a skydiving experience! We need to verify your identity and age. Before we can let you skydive, we need to see your government-issued photo ID. This can be a passport, military ID or driver's license.
Also, we'll ask you to bring the credit card used to make your reservation. Regrettably, this is necessary because of a high volume with credit card fraud and chargebacks. Fraud has been such a frequent problem that we now require all guests to physically present the credit card used to book the reservation.
Be Cognizant of Weight Restrictions and Surcharges
Long Island Skydiving Center has a stringent policy on our weight restriction. Due to safety reasons, no guests can weigh more than 225lbs (with clothing and shoes). Every person who skydives with us is weighed prior to jumping. We make no exceptions and regret when guests become angry or stressed when enforcing this safety policy.
Also, please be aware that an additional fee of $2/lb is applied to all guests weighing more than 200lbs.
Be Patient
When it comes to skydiving, patience is key because delays are inevitable due to weather. Many guests tend to get impatient with having to wait, but please remember that if we are grounded due to weather, it's for your safety.
A wise old skydiver once said, "It's better to be on the ground and wishing you were in the air than in the air wishing you were on the ground."
We believe this to be true!
TIP 1: Try to schedule as early as possible. During the summer months, most weather delays occur during the afternoon. Usually, the best conditions are early in the morning.
TIP 2: Don't schedule plans shortly after your skydive is supposed to conclude. If you're worried about making a dinner date with an afternoon booking, this is likely to detract from your skydiving experience if there are delays!
Come Dressed for Success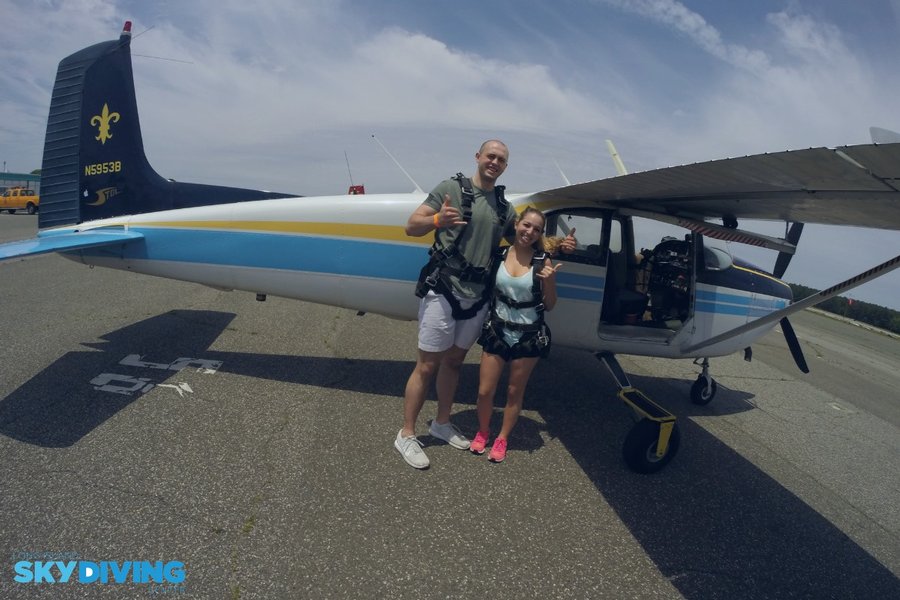 The name of the game with dressing correctly is making sure you're staying warm (it's between 15 and 20 degrees cooler at jump altitude), and not wearing anything that could cause a snag or a twist!
Blue jeans and a tee shirt (a long sleeved tee on cooler days) usually work well, but you may want to bring an extra layer in prep for your jump. Avoid bulky jackets or very loose clothing. Please leave all of your jewelry at home.
Avoid open-toed shoes, boots with hooked eyelets, cowboy boots or flip flops. Tennis shoes or running shoes are perfect!
If you've got long hair (or a long beard), be sure to bring a hair tie to avoid your hair (or beard) from obstructing the vision of your tandem instructor.
For a full list of things to be aware of before arriving, please reference our FAQs page.
If you're ready to skydive, we'd love to host you for a life changing tandem skydiving experience! Click here to begin the adventure!
You May Be Interested In: