Where Can I Go Skydiving in New York?
General
Posted by: Long Island Skydiving Center 1 year ago
New York, New York. Home of the Statue of Liberty, the Empire State Building, and … skydiving? Whether you're a local, visiting, or just passing through, making a tandem skydive in New York is amazing. Skydiving can make your NYC experience even more awesome. Afterall, what is more incredible than jumping from a plane and soaring through the air a stone's throw from the Big Apple? And since we're located right on Long Island, you can get gorgeous coastal views and unique perspectives of the city!
Where Can I Go Skydiving in New York?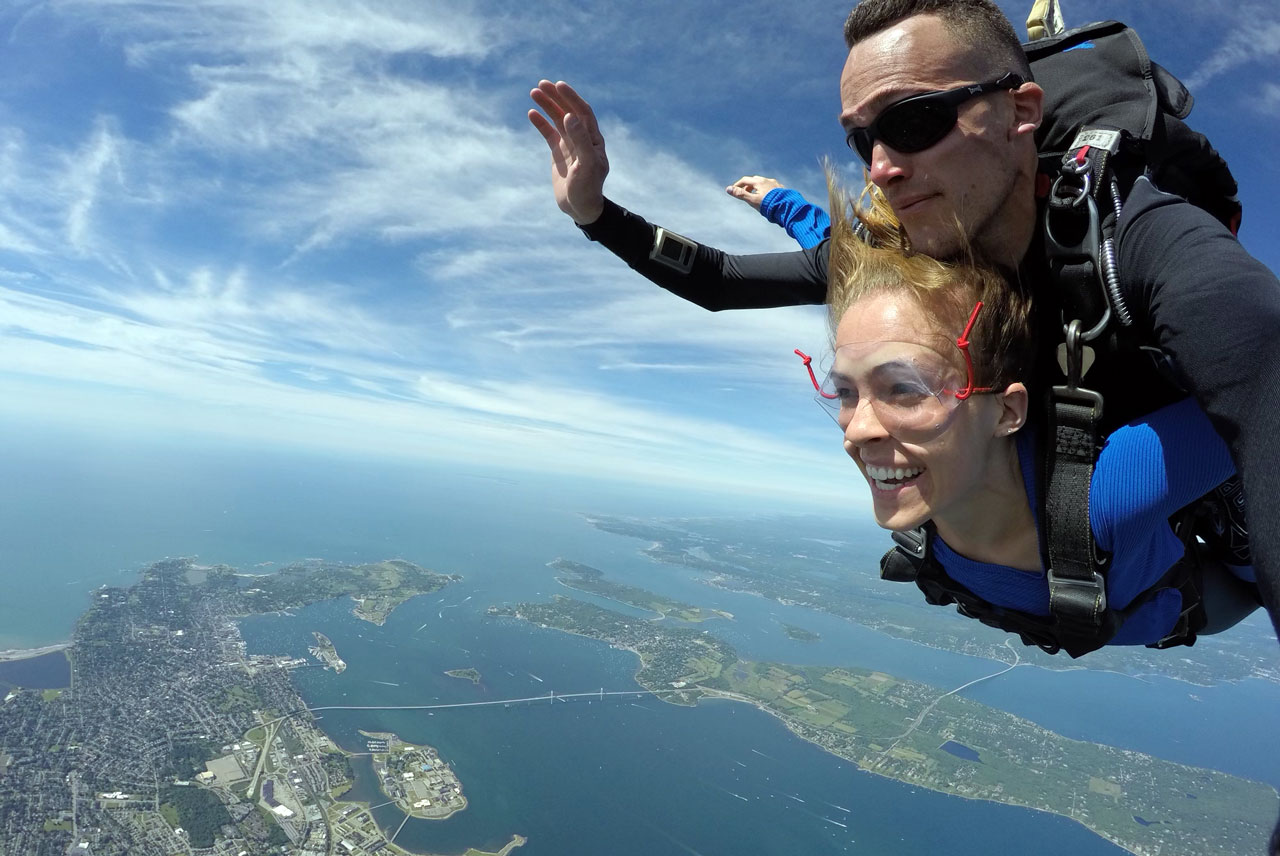 There are several places where you can go skydiving in New York, but we think that we're the best option when it comes to New York skydiving (we might be a bit biased). We are the closest skydiving facility to NYC, located only 50 miles from the city! It's super convenient to get to us by car, rideshare, or train. And the views you get when you skydive with us are unmatched – we're talking about the Atlantic Coastline, Long Island Sound, Hampton Beaches, and Fire Island. Plus, on clear days, you can get breathtaking views of Montauk and New York City.
Can You Skydive Over New York City?
While you can usually see New York City when you skydive with us, you cannot skydive over the actual city. The reason why has mostly to do with planes and airspace. There are some very large airports right around New York City: John F. Kennedy International Airport, Newark Liberty International Airport, and LaGuardia Airport. All three of these airports have a Class B airspace surrounding them, which is a type of controlled airspace. Skydiving operations are not authorized to enter into controlled airspace, except with special permission and coordination with air traffic control. Our dropzone is located pretty much as close to New York City as you can get without being in the no-no zone.
How Much Does It Cost to Go Skydiving in New York?
Okay … so you're excited to fly with us and soak in some awesome views, but you're wondering about the cost to skydive. Our standard rate for a tandem skydive is $298 (including the $50 deposit you pay to book your skydive), and we offer great deals and discounts! If you pay in full when you book online, your skydive is only $239 on a weekday or $259 on a weekend. We also offer discounted group rates (bring all of your buds!), and a special repeat rate – because your first jump will be so nice, you'll want to do it (at least) twice!
How Old Do You Have to Be to Skydive in NYC?
Skydiving is exciting no matter how old you are, but there is a minimum age limit to making the leap. You must be at least 18 years old to jump with us, but there is no maximum age limit! This is not specifically a New York rule, but a rule that most dropzones in the United States abide by. Long Island Skydiving Center is a member of an organization called the United States Parachute Association (USPA) which regulates the sport of skydiving for everyone's safety. One of USPA's rules is that all jumpers must be over 18 years old. If you or someone you know is younger than 18 but itching to get their knees in the breeze, there are indoor skydiving facilities that use a wind tunnel to mimic the feeling of freefall. The closest one to us is iFly Indoor Skydiving in Westchester, about 70 miles west!
Can I Get Videos and Photos?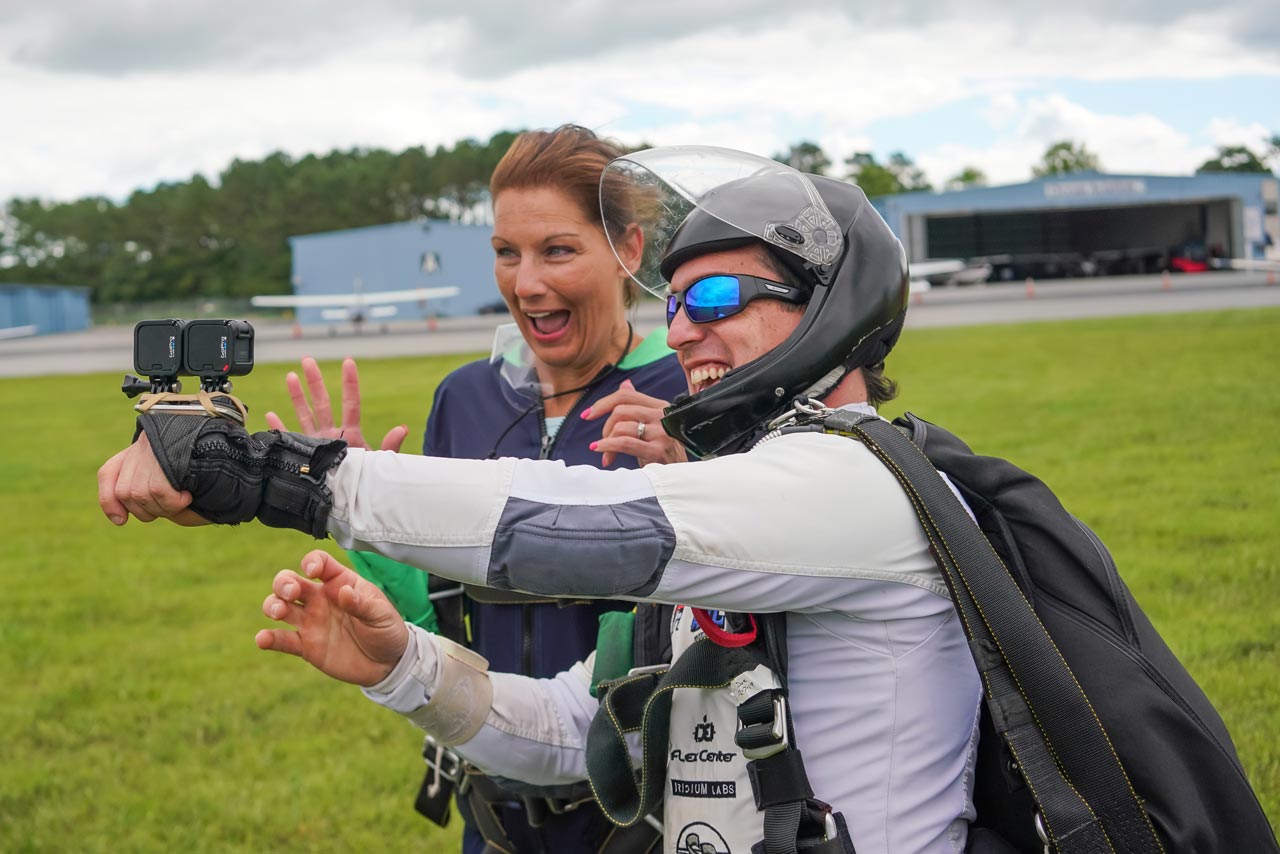 Not only do we offer videos and photos, but we HIGHLY recommend getting them. Since skydiving is not something that most people do all the time, it is so much fun to have this crazy experience on record for you to remember and to share with all of your family and friends (especially when it's your first time)! Whether you want just video or just photos, or you choose to get the whole package, you will get your goodies super fast after your jump. And because we know that you're going to want to post about your jump online, you get your footage delivered in three convenient formats: a 45 second Instagram video, a 60 second freefall video, and a 4-5 minute full video of your skydive. Boom! (Don't forget to tag us! #longislandskydiving #longislandskydivingcenter)
—
Ready? What are you waiting for? Book your jump so we can show you just how fun skydiving in New York can be!
You May Be Interested In: