Yonkers Skydiving
Just A Short Drive from Yonkers
Are you a resident of Yonkers or Westchester County looking for an epic adventure? Look no further than Long Island Skydiving Center. As the closest skydiving operation to Westchester County and New York City, Long Island Skydiving Center is a top Yonkers skydiving destination. In addition to proximity, we are also the only Yonkers skydiving area dropzone accessible by public transportation.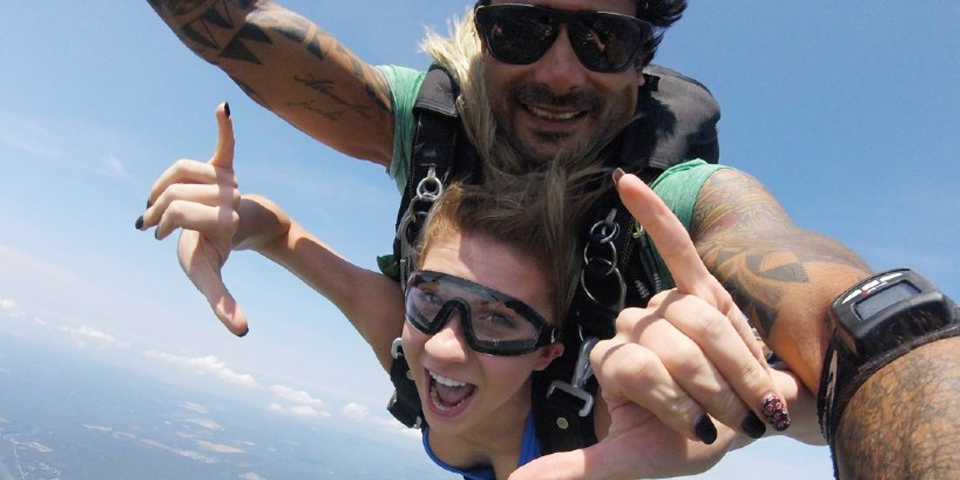 Long Island Skydiving Center is located in Shirley, NY at the Brookhaven Calabro Airport.
Interested in Yonkers skydiving? This is everything you need to know about making your first tandem skydive! And if you have a question and don't see the answer to your query below, please contact us. We're happy to help!
Yonkers Skydiving: Where Can You Skydive?
If you live in Yonkers or another city within Westchester County, there are three main skydiving operations around, each a 90 to 120 minute drive away. These three options are Long Island Skydiving Center, Skydive Sussex, and Skydive the Ranch.
Here are the differences in distance and location of the three.
| | | |
| --- | --- | --- |
| Westchester Skydiving Options for Yonkers, NY | Location | Distance |
| Long Island Skydiving Center | Shirley, NY | 70 miles |
| Skydive Sussex | Sussex, NJ | 73 miles |
| Skydive the Ranch | Gardiner, NY | 78 miles |

Located just 70 miles away, Long Island Skydiving Center is not only the closest skydiving dropzone option to Yonkers, NY – but it's also the only one on the stunning coast. Long Island Skydiving Center is the only option with public transportation access, too. We can be reached via public transport from Yonkers Station to Mastic – Shirley including transfer stops at Penn Station and Jamaica.
Doing What We Do Best: Tandem Skydiving
At Long Island Skydiving Center our sole focus is on tandem skydiving. By not opening our business to licensed skydivers, we are able to dedicate our availability entirely to you. We don't have to reserve seats on the aircraft for different jumper types, so we are able to shorten wait times and expedite your experience (weather permitting).
The staff at Long Island Skydiving Center are committed to providing our guests with a premier skydiving experience and understand that a skydive is so much more than jumping from a plane. From the moment you arrive, we strive to attend to your comfort during all elements of the experience.
At Long Island Skydiving Center, safety is paramount. From our meticulously maintained aircraft to state-of-the-art equipment and knowledgeable skydiving instructors, we mean business when it comes to safety.
We understand that if you are searching for skydiving Westchester, NY, you have options. And with those options comes the opportunity to select a dropzone with an exclusive focus on tandem skydiving customer service: Long Island Skydiving Center.
What Sets Long Island Skydiving Center Apart? You Can't Beat The Views!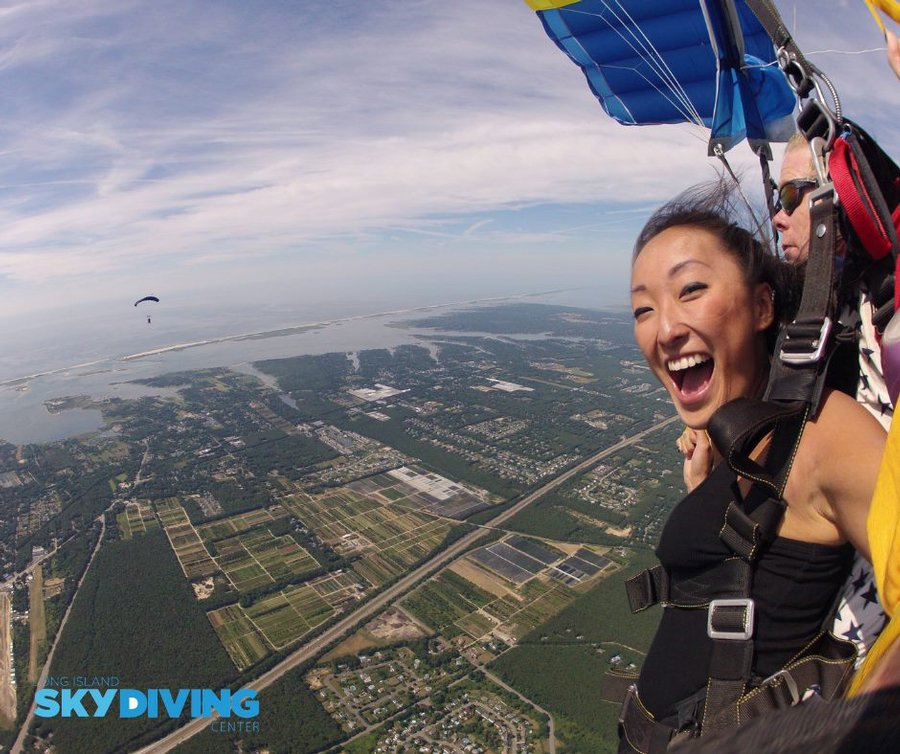 In addition to our world-class skydiving experience and our accessibility to those searching for Yonkers skydiving, our customers also get AMAZING bird's eye views! These sights include Mastic Beach, West Hampton Dunes, Fire Island, Water Island, and even the New York City skyline. Even before you taste freefall, your scenic flight up will leave you hungry for more: it's a staggering oceanic panorama all the way to altitude.
Your First Jump: Prerequisites for Yonkers Skydiving
Jumpers must be 18 years of age or older and must present a valid, government-issued photo ID as proof of their date of birth.
Reservations are strongly encouraged. For weekday skydives, please make a reservation a few days in advance. For weekend skydives, reservations should be made at least a week in advance. You can make a reservation here. Walk-ins are also accepted on a space-available basis.
Our weight limit is 225lbs. If making a reservation for someone over 200lbs, please give us a call. Additional fees may apply for individuals over 200lbs.
A facial covering for the mouth and nose is currently required inside of the building and the aircraft.
Additional Information about Yonkers Skydiving with Long Island Skydiving Center
Before arriving at our facility, every participant is required to fill out a Legal Release, Waiver of Liability and Assumption of Risk Agreement. Spectators are not allowed inside of the skydiving hangar. However, they are welcome to watch from our designated spectator area in the main terminal right beside our hangar. Restrooms can also be found in the main terminal building.
Ready for Yonkers Skydiving?
If you think the time is right to make a skydive, we're here to show you the experience of a lifetime! For more information you can check out our FAQs or contact us directly. Long Island Skydiving Center is open for jump operations from April through mid-October! See you soon!