What to Wear for Each Season
Skydiving
Posted by: Long Island Skydiving Center 2 years ago
Many people assume that skydiving operations only occur when it's warm out but that's certainly not true here at Long Island Skydiving Center. Part of being as prepared as you can for your first skydive includes knowing what to wear for whatever season you're planning to make the big leap. The name of the game here is to dress for success so you can focus on experiencing the thrill of a lifetime instead of being concerned about the weather. Keep reading to learn about the tips we suggest for skydiving in all seasons.
Just like any other outdoor winter sport or activity, it's important to wear layers to stay warm. That's especially true when it comes to winter skydiving since it's colder in the air than on the ground. Start with a good base layer such as a cold gear shirt and pants and then wear thermals on top of that. If you are particularly cold-natured, you may want to consider wearing a light-weight fleece or hoodie as well. We also recommend two layers of gloves – the first layer should be latex, the top glove can be a fitted fleece glove.
Spring
Once the weather starts to warm up a bit, layers aren't as necessary as they are in the colder months. We suggest that you still stick with long sleeves and pants though, due to the likelihood of cooler temperatures in freefall. A good rule of thumb is to don whatever you'd wear to the gym or for an outdoor run.
Summer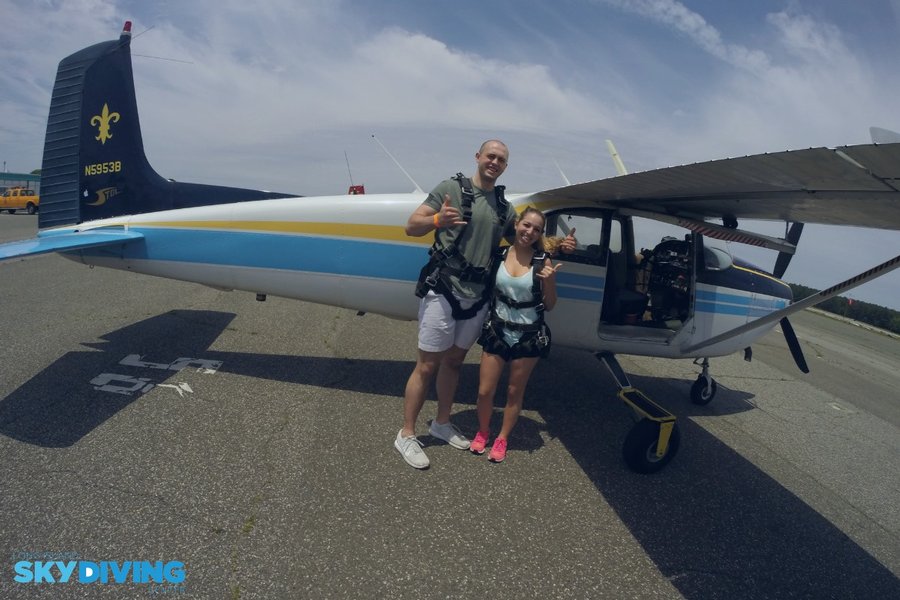 You might think that the hottest season of the year calls for shorts, tank tops, and flip flops – and you'd be mostly right. When it comes to skydiving in the summer, you'll be wearing a jumpsuit over your clothing that will keep the chill away at 14,000 ft so summertime clothing underneath is ideal. However, you'll need to wear closed-toe shoes, preferably with laces as flip flops and sandals have been known to disappear in the 120mph wind of freefall.
Fall
Fall is especially similar to Spring weather in that it's a bit unpredictable. Because of this, it's best to bring back the long sleeves and pants again, and maybe even carry a light jacket that you can put on if needed.
In short, dress for the season that you're in to have the best experience possible. Comfortable, fitted clothing is best year-round and regardless of the season, you can trust that you'll be in good hands at Long Island Skydiving Center for your thrill of a lifetime. If you want to experience skydiving in New York, we are the premier Tandem Skydiving Center in Long Island and the New York area. What are you waiting for? Book your tandem skydiving adventure with us today!
You May Be Interested In: