The Ultimate Experience Gift for Adventurous Couples in NYC
Skydiving
Posted by: Long Island Skydiving Center 3 months ago
Most folks are in the business of pursuing happiness in one way or another. And gifts are a great way to spread joy. But what's the best approach for choosing the perfect gift? Sure, there's a certain satisfaction that comes with spoiling your significant other with fancy things.
According to science, though, the best gifts you can give aren't things – they're experiences.
In fact, research shows that people who buy a thing and do a thing are equally happy at the time of purchase. But over time, the "owners" experience significantly less satisfaction than the "doers." In fact, the "doers" satisfaction with the experiences they spent their hard-earned money on actually increases as time goes on.
So what does that mean for your next big gift exchange with your significant other? What are the best experience gifts for couples? Finding fun experiences for couples can be challenging, but what better place to have an adventure than in New York City?
NYC experiences for couples make some of the most romantic, special memories of anywhere in the world. From incredible Broadway musicals to the views at the top of the Empire State Building, there's no end to the things you can do. But what about couples skydiving?
That's certainly not something that usually comes to mind when talking about big city experiences. But there are plenty of reasons to consider jumping from an airplane as your next gift. If you're looking for unique experience gift ideas for couples, the sky's the limit!!
The Unforgettable Thrill of Skydiving for Couples
The best gifts for couples who love to get their blood pumping need to be high stakes and exciting. How about a day in the sky and a night out on the town? There's nothing like falling through the air at 120 mph to get you ready for a night in the Big Apple.
Even if you don't normally partake in the most thrill-seeking activities together, the adrenaline rush and freedom that comes from jumping out of an airplane will have you walking on air for days after.
And that view! Most people come to NYC, at least in part, to see the breathtaking images of the city skyline and towering skyscrapers. After all, there's a reason tourists pay good money to stand on top of some of the tallest buildings in town.
Imagine the view you'll get from the sky!
Discovering Long Island Skydiving Center in New York
But how in the world can you go skydiving around New York City?? Where is there to fly or land in that urban jungle?
Well, just a hop, skip, and a jump (get it?) outside of the sprawl sits the top skydiving destination in the New York City area. Long Island Skydiving Center offers the experience – and views – that you can't find anywhere in downtown Manhattan.
If you're looking for a break from the hustle and bustle, or maybe just a brand new point of view, the stunning coastal waters and scenic landscapes surrounding our dropzone are like a breath of fresh air.
But it's not all just about the views. Our dropzone is committed to the best and safest experience for every one of our customers. Our airplanes are meticulously maintained, we only use state-of-the-art equipment, and our instructors are hired for their experience and commitment to safety.
In short, you can trust that you and your loved one are in good hands.
The Perfect Experience Gift for Couples: Skydiving in NYC
Extreme bonding, unforgettable memories, unbridled joy – what better way to spend time with the person you love?? This is why adventure couple gifts are so epic!
Imagine how surprised your significant other will be when you tell them you're going to be jumping out of an airplane together. Now imagine sharing those memories years from now when you're still looking back at how amazing your day in the sky was.
And it will make you stronger as a couple! Facing any fears you have around skydiving as a couple will create a bond between you that will last a lifetime. Conquering personal challenges and reaching goals as a supportive unit will strengthen your relationship in ways you didn't even know were possible.
Maybe taking the literal leap will inspire you to take the metaphorical one! We can even help you propose to that special someone in an unforgettable way.
Planning the Ultimate Skydiving Experience Gift
Okay, all of that sounds great, but planning something that extravagant is probably pretty complicated, right? Not at all!
Skydiving Long Island has easy, flexible booking that can even be done online for those with an aversion to talking on the phone (which, let's be real, is most of us at this point!). And we even have personalized gift certificates!
Whether you're looking for a dramatic reveal or a simple-something inside a card, gifting a skydiving experience can be whatever you make it! And not only will you give the best couples experience gift ever, but you'll be the best gift giver ever! #facts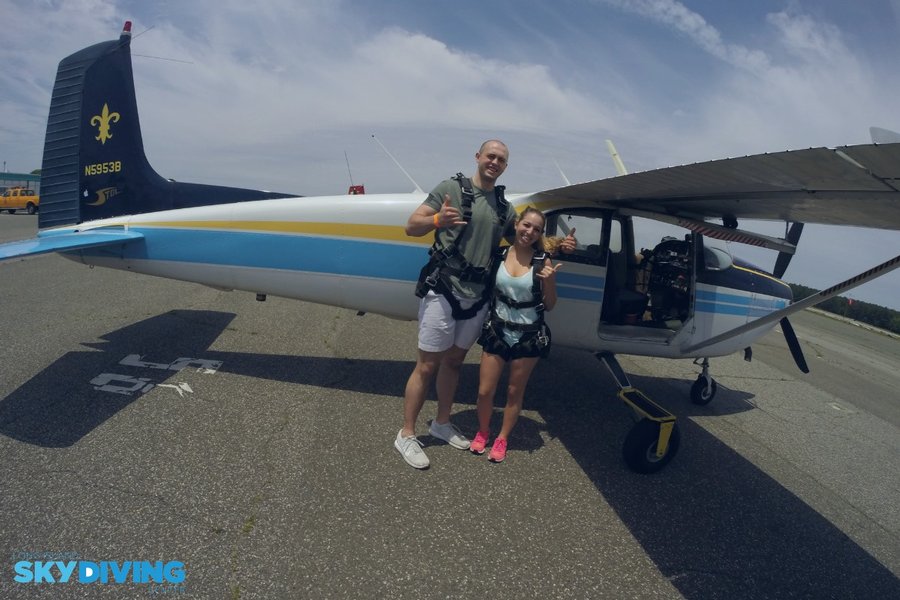 And don't forget the video! There's nothing better than reliving your incredible day together once you're back home and cuddled up after a long day of shredding in the sky!
Now you know about the ultimate adventure gift for couples, what are you waiting for?
Surprise your favorite person with their new favorite gift! We can't wait to show you how amazing dates in the sky are. Blue skies, love birds!
You May Be Interested In: