What are the Best Weather Conditions for Tandem Skydiving?
General
Posted by: Long Island Skydiving Center 8 months ago
One of the most important things you'll want to think about when scheduling your tandem skydiving reservation, is WEATHER! Let's discuss the best weather conditions for tandem skydiving in general, and more specifically the best weather conditions for skydiving in New York!
SKYDIVING WEATHER
You'll want to consider three key factors when judging the perfect skydiving weather conditions: cloud cover, precipitation, and wind.
While temperature can play a factor in your skydive (like if the temps dip below freezing), the perfect skydiving temperature is usually based on your own level of comfort. Temperatures can be 30-40 degrees cooler up at altitude! Brrr!
Clouds
Ahhh. Blue skies, warm weather, no rain, no wind, no problem … right? Nope. One of the biggest factors when it comes to skydiving are those pesky clouds. While we most definitely appreciate those cotton-looking, puffy, white balls of vapor – they tend to get in our way sometimes. We must be able to see the ground from the airplane. So if the clouds are anywhere between 0 and 8,000 feet it's most likely to be a no-go. 
We can use our eyes, Automated Weather Observing System (AWOS), or the Aviation Weather Report to help us determine where exactly the clouds are and if it is safe to jump. This decision will ultimately be determined by the pilots and the Safety and Training Advisor. Don't worry, clouds move so there is still a chance you could jump if clouds creep up on the day of your jump!
Little-to-no clouds or clouds above our jumping altitude are most favorable for skydiving.
Precipitation
Another obvious (or maybe not-so-obvious) factor is precipitation. Rain, snow, sleet = no skydiving. Why? Well, for one – rain straight up hurts when you're flying at 120+ mph! Nobody wants to feel hundreds of tiny (and freezing) needles all over their body during their skydive. And two, skydiving in the rain is not allowed per the Federal Aviation Administration (FAA). The FAA requires that skydives only be completed in Visual Flight Rules (VFR) conditions.
Rain can also affect canopy control when it comes to landing the parachute properly due to the extra weight of the water.
Absolutely no precipitation is the best when it comes to skydiving.
Wind
Alright, alright, alright. Let's say it's blue skies, no clouds, no rain – we're looking good! While it might look like a beautiful day for a skydive, it might not feel like a good day. We're talking about wind here!
Wind limits vary depending on your experience level. Tandem skydivers and skydivers with more experience have a little more freedom when it comes to jumping in risky winds. Whereas, a student jumper may be advised or restricted to being on a "wind hold" if the winds are gusting above 14 mph.
Gusty winds are probably the most dangerous weather condition that can affect your skydive. High winds and wind gusts can have a major impact on canopy controllability by creating dangerous rotors, bumpy turbulence, and can even push us backwards!
A light breeze with no gusty winds is perfect for skydiving and makes for a lovely landing.
BEST WEATHER CONDITIONS FOR TANDEM SKYDIVING NEW YORK
When determining the best weather conditions for tandem skydiving in New York, we can take a look at the average weather we see here at Long Island Skydiving Center in Shirley, New York!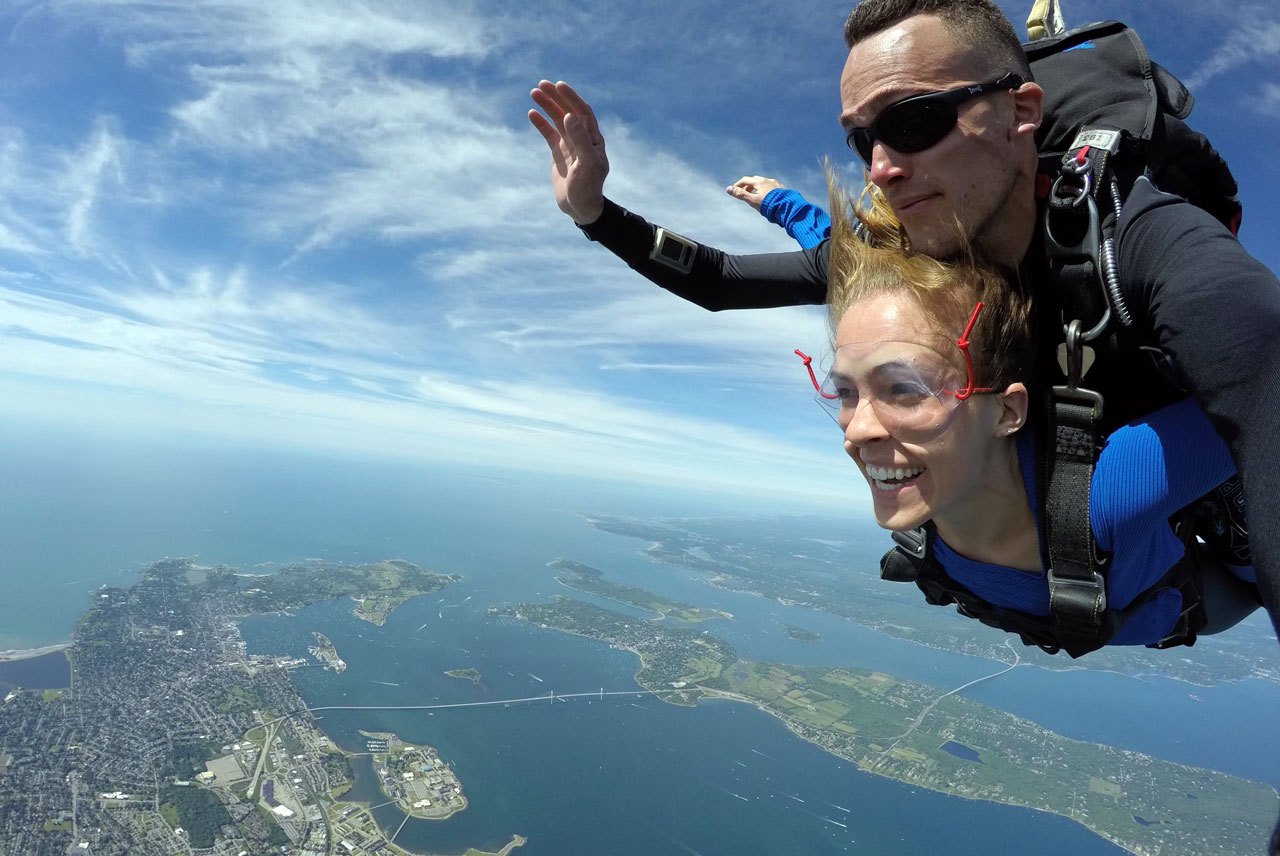 Precipitation
Shirley, New York gets an average of 114 days of precipitation per year – with the most popular month for rain being May. I guess the saying should go "May showers bring spring flowers." 
The winters in Shirley tend to be very cold, snowy, and windy, with January being the snowiest AND windiest month of the year! Brr … The summers are warm, humid, and calm, which is why the best time of year to visit Shirley for warm-weather activities is from mid-June to late September (based on the tourism score), the best time being the last week of August.
Clouds
It tends to be pretty cloudy during the winter and early spring in Shirley, New York. The clearest part of the year begins in late June and ends in late November with the clearest month of the year being September. The cloudiest month of the year is February.
Winds
The windier part of the year lasts from April to October with the calmest month being July (8.9 mph average) and the windiest month being January with an average hourly wind speed of 14.6 mph.
When taking all of this into consideration, we've determined that the best time to go skydiving in New York based on the weather conditions would be sometime in September. Not only is the weather usually favorable – the autumn leaves make our famous Fire Island look like it has a fiery, glowy, orange haze to it, and the clear skies give a certain sparkle to the Atlantic Coastline, Hampton Beaches, and one-of-a-kind Empire State views. It is truly a sight to see and it's what makes Long Island Skydiving Center one of the most scenic places to skydive in the states!
Come see for yourself! If you're searching for "tandem skydiving NYC" look no further! Book your skydive with New York City's closest skydiving center – Long Island Skydiving Center today! Blue skies, friends.
You May Be Interested In: