Why Skydiving Certificates Make the Perfect Gift for Adrenaline Junkies
General
Posted by: Long Island Skydiving Center 9 months ago
We live in an age where people are seeking adventure, travel, and life-changing experiences over material possessions. This is a time in history where humans are feeling compelled to follow a non-traditional life, "live-it-up," travel the world, learn new experiences, and think outside the box!
So when you're thinking of what to get someone who doesn't want any'thing' or for the person who already has everything – you may want to consider purchasing the gift of an EXPERIENCE instead of material items. The idea of giving the gift of adventure is on the rise! And if you're on the hunt for jaw-dropping gifts for thrill seekers or gifts for adrenaline junkies, a skydiving gift certificate makes perfect sense! Here are the top 3 reasons why skydiving certificates make the perfect gift for adrenaline junkies for any occasion, but especially for this holiday season.
TOP 3 REASONS TO GIVE A SKYDIVING GIFT
We may be a little bit biased, but human flight is quite possibly the best gift you can ever give! Whether you are buying for someone who has been talking non-stop about wanting to go skydiving, or if you're running out of gift ideas for that special someone in your life … a skydiving gift certificate for a first time tandem skydive is the ultimate solution.
1. SKYDIVING GIFT FOR HIM OR HER: IT'S EASY!
A skydiving gift certificate doesn't need much personalization, bows, size confirmation, or gift receipt. Skydiving is a one-size-fits-all, gender-neutral gift that anyone and everyone will enjoy!
The only restrictions to be considered are age, weight, and overall physical health. As mandated by the United States Parachute Association (USPA), tandem skydivers must be 18 years of age to skydive.
As far as a maximum age, anything goes! Currently, the oldest person to go skydiving is Rut Linnea Ingegard Larsson at the age of 103 years and 259 days old, according to Guinness World Records!
As long as the person is in good physical health they are totally able to skydive! As always, we urge every skydiver to get the green light from their physician if there are any health concerns before making a skydiving reservation.
The weight limit at Long Island Skydiving Center is 225 lbs.
2. A GIFT THEY WILL NEVER FORGET
Want the reward for best gift-giver ever?! Give the gift of human flight! Anyone who has ever been skydiving has a story to tell. Your skydiving gift recipient's unforgettable story will always begin with "___ (your name!) got me a skydiving gift card for ___ (holiday)!!" And that's pretty special.
Not to mention, skydiving in itself has many life-changing benefits and effects on the brain that will make you feel superhuman! Adrenaline, endorphins, dopamine, serotonin – oh my! All of these fantastic neurotransmitters give you that euphoric feeling that can last all day following your skydive. Talk about "the gift that keeps on giving"!
This skydiving gift will give your loved one a confidence boost like no other that will extend into other aspects of their life. Have someone that maybe needs a little inspiration to accomplish a task, achieve a goal, or gain a little self-confidence? Sounds like they need the gift of a shift in perspective, a mental challenge, a little bit of sky-therapy with a TANDEM SKYDIVE!
3. GREAT LAST MINUTE GIFT IDEA
Let's admit it, we're all a little guilty when it comes to procrastinating on holiday gift purchasing. That's why "convenience" is our favorite word! Purchasing a gift certificate at Long Island Skydiving Center is super easy. You can purchase a skydiving gift card for any given amount, which can be used towards any future skydiving booking.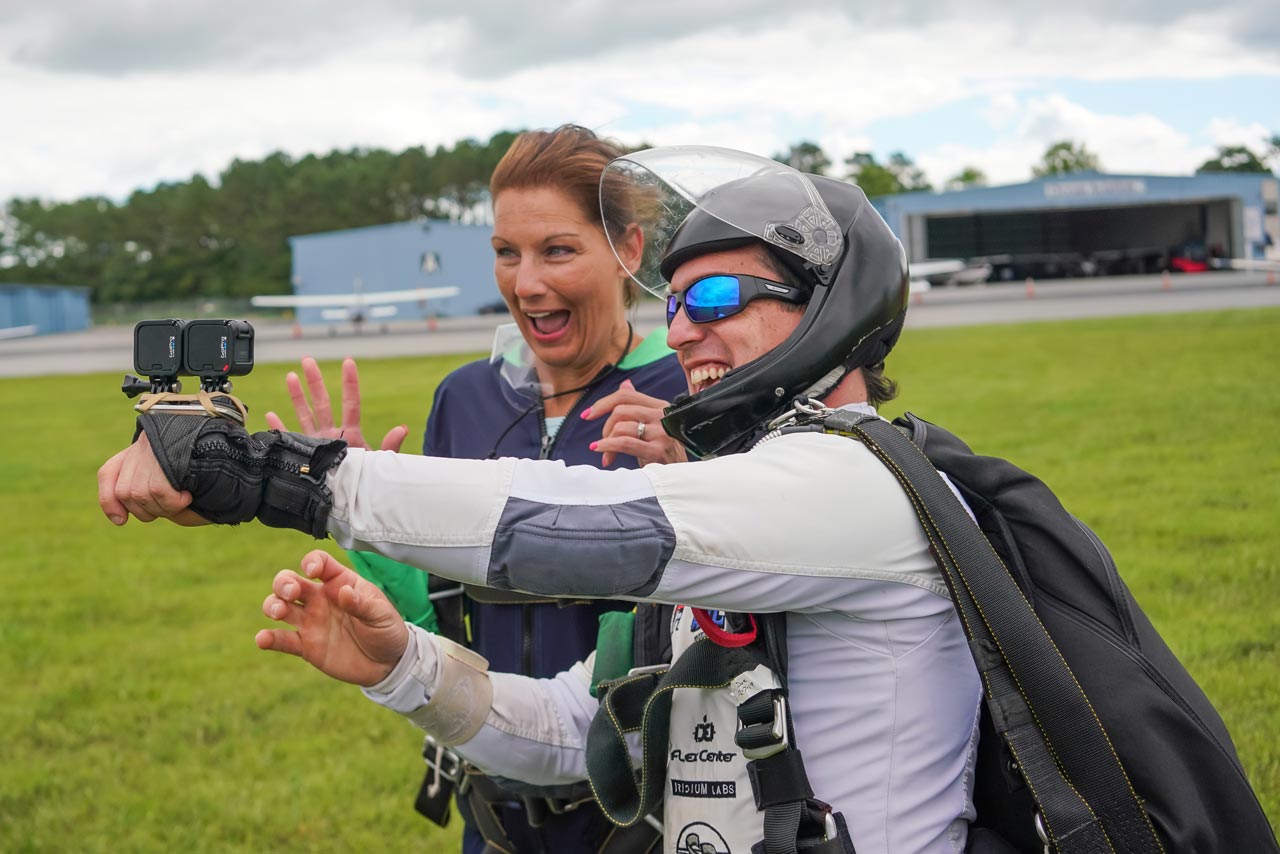 Tandem Skydiving Gift Certificate Prices:
Tandem Skydive (weekday): $239
Tandem Skydive with Video OR Photo Package (weekday): $338
Tandem Skydive with Video AND Photo Package (weekday): $368
Tandem Skydive with Video AND Photos AND T-Shirt OR Shot Glass (weekday): $378
Shoot, why not purchase several skydiving gift certificates for your crew and make it a group outing – skydiving is always better when you do it with the people you love! Group skydiving has a wonderful way of bringing people closer together and is a perfect way to celebrate any special occasion.
Have more questions about skydiving gift certificate pricing, purchasing, or bookings? Contact one of our awesome team members today. We hope to jump with you soon at NYC's Closest Skydiving Center – Long Island Skydiving Center! Blue skies.
You May Be Interested In: