What Makes a Good Skydiving Instructor?
General
Posted by: Long Island Skydiving Center 10 months ago
Skydiving for the first time can bring up a slew of intense emotions, sometimes all at once. You may be excited, exhilarated, anxious, or scared, and when choosing where you are going to make your inaugural leap, you want to know you are in the hands of people who will give you the best experience possible. Your skydiving instructor is the person who will be with you throughout your entire journey, so it's only natural to want to make sure you are strapped to the best person for the job.
From the moment you walk into Long Island Skydiving Center until you touch down on landing, we want your experience to be the very best. For that reason, we engage only highly-experienced and super passionate USPA-rated (United States Parachute Association) skydive Instructors to guide you through your experience of a lifetime. 
Here's what we, and you, look for in an awesome tandem instructor.
Safety Oriented
First and foremost: safety. Skydiving is an inherently risky activity, so we are very particular about every tandem instructor's approach to safety.
Questions about safety are often the first people ask when inquiring about skydiving, and the answers they receive are often determinants for where they choose to skydive. It makes sense – it would be hard to enjoy falling through the air at 120 mph if you didn't think the person you were attached to cared about your safety and well being! 
Our instructors understand the importance of making deliberate decisions in all situations, and how much their choices impact your first skydiving experience. By choosing to jump with us, you're putting a lot of trust in the Long Island Skydiving Center team – and it's a responsibility your instructor holds in the highest regard.
Every instructor's number one job on your skydive is to get you from the plane to the ground safely. Doing so means applying years of knowledge, training, professionalism, and experience to make our first time jumpers feel comfortable, confident, and empowered. In short, you're in good hands.
Clear Communicator
Skydiving for the first time comes with a lot of new, and sometimes overwhelming, information. It's important that your instructor is someone who can give you the training you need in a way that's easy to understand. You will be taught positions and movements that you may have never done before, and it's important that you and your instructor are on the same page from the moment you board the plane until your feet touch down on the ground. The best way to ensure the safety of you and everyone around you is to understand what your instructor is telling you so you can execute it with efficiency and confidence.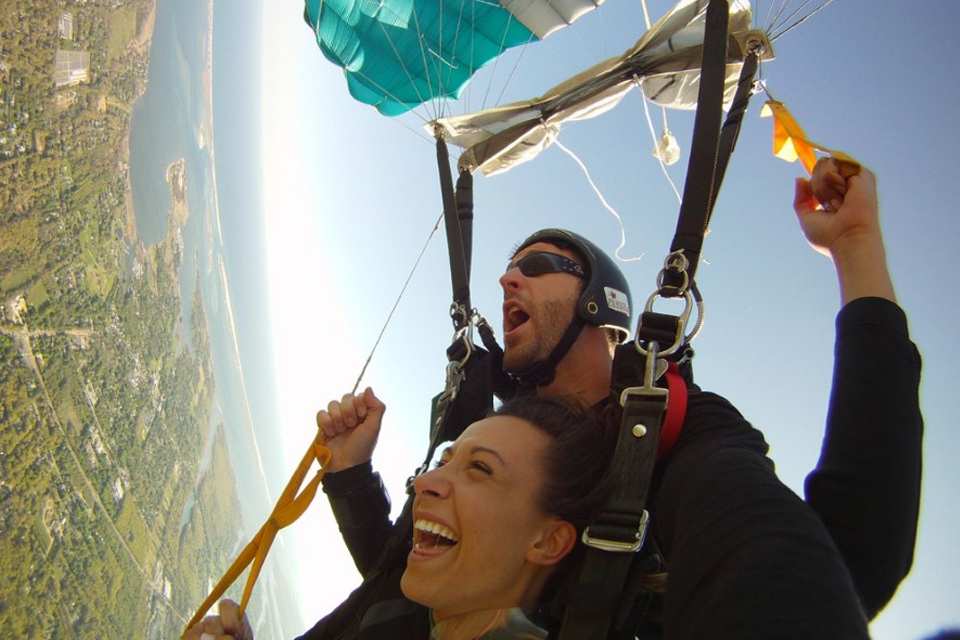 We make sure our instructors are able to deliver your training in the way that makes sense for you as an individual, not just a cookie cutter pitch meant to get through the information as quickly as possible. Both you and your tandem instructor should feel heard, understood, and united on the expectations of your adventure.
Knowledgeable
Becoming a tandem instructor is no easy task, and every one of our instructors has gone through the necessary training and certifications to responsibly take you on your first skydive.
As mandated by the USPA, tandem instructor requirements include:
Logging at least 500 jumps
Earning a USPA D license
Accruing a minimum of 3 years experience in the sport
Possessing a current FAA Class III Flight Medical Certificate
Completing the USPA tandem instructor rating certification program
Calm and Personable
Skydiving comes with a mix of emotions and energy, and the last thing anyone wants is for their instructor to amplify any stress and anxiety! At Long Island Skydiving Center, you'll be met with warm, welcoming faces that make the act of jumping from a plane seem like a walk in the park – whichever instructor you're paired with will help you get ready to take the leap. Every instructor is committed to making you feel valued, calm, and stoked, and they'll keep that energy going until your first jump is in the books! 
Ready to meet one of our instructors and make your dreams of human flight a reality? Book your jump with us and say hello to your new flying friend!
You May Be Interested In: